If this is an emergency, please dial 9-1-1 or contact The National Suicide Prevention Lifeline 1-800-273-TALK (8255). Read more in this disclaimer.
A Collaboration of The Jason Foundation and Acadia Healthcare
---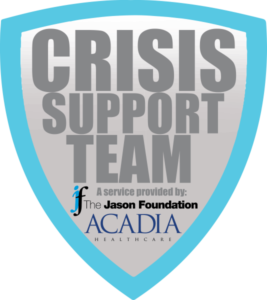 What We Are:
A resource for guidance and advice to deal with traumatic events that could affect students' and young people's emotional health in a school, church, youth organization, or other setting.
What We Are Not:
We are not a crisis hotline. This is neither intended as counseling for individuals nor a replacement for professional services that may be needed, including counseling for groups.
More About CST:
School counselors (administrators), church leaders and youth leaders can find themselves unsure of the actions that should or should not be taken in today's world of devastating events that sometimes happen in our schools, churches or youth organizations. These tragic events can range from:
A suicide or attempt
Auto related injuries
Death
School violence
While larger schools, school districts and even large churches may have adequate resources, we have found that many times the people in charge of handling these events feel alone and lack a good "sounding board" for advice when trying to mitigate the impact of these tragedies in the surrounding communities.
That is why The Jason Foundation has collaborated with Acadia Healthcare to provide the Crisis Support Team (CST). Not to be confused with clinical treatment or direct counseling, CST will provide telephonic assistance via clinical professionals that will listen and share insights when handling such events in the best clinical way. This service is not crisis counseling for individuals, but rather guidance for administrators or leaders responding to groups dealing with adverse events.
Suicide awareness and education are powerful tools to reduce incidences and suicidal behavior. By understanding the risk factors and warning signs, we can help prevent suicide. Our commitment to raising awareness, providing preventative resources, higher level of care programs, and additional services like The Crisis Support Team, is to educate individuals on the options they have and reduce the number of suicides.
CST is a free community service offered by The Jason Foundation and Acadia Healthcare. Connection to a clinical advisor typically occurs within 24 hours of contacting the Team; however, weekends or holidays can delay the response to the first working day following the holiday or weekend. If you are in need of guidance in the aftermath of a crisis, please fill out the form below:


Crisis Support Team Submission