Improving the Lives We Touch
Committed to Quality
The mission of Acadia Healthcare is to maintain our standing as a world-class organization that sets the standard for excellence in the treatment of behavioral health and addiction concerns. In all that we do, we strive to make our services synonymous with clinically excellent care and an unparalleled commitment to our patients, our staff, our communities, and the professionals with whom we collaborate.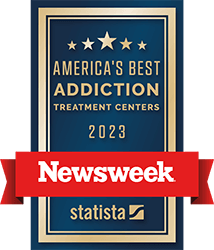 Seven Acadia Facilities in Five States ranked in Newsweek's list of America's Best Addiction Treatment Centers for 2023!
Our Comprehensive Treatment Network
~23,000 Employees · ~11,000 Beds · 250 Locations · 39 States · 1 Network
As a leading provider of behavioral healthcare services in the United States and Puerto Rico, Acadia Healthcare operates 250 treatment facilities across 39 states. Our network of treatment facilities offers multiple levels of care for various behavioral health and substance use disorders. At Acadia, our primary goal is to meet patients where they're at in their treatment process. We do this by providing a multitude of levels of care, including detoxification, residential treatment for addiction, residential treatment for dual diagnosis, acute psychiatric inpatient hospitalization, medication-assisted treatment (MAT) services, and an array of outpatient programming options, ranging from partial hospitalization programs (PHPs) and intensive outpatient programs (IOPs) to traditional outpatient services. Our expansive network of treatment facilities creates greater access to care, reduces the stigma associated with mental illness and addiction, and offers those in our communities a safe environment in which to receive the treatment they need.
Our Facilities
Select from the following options to filter results on the map below.
Select from the following options to filter results on the map to the right.
Ages Treated
Services Offered
Levels of Care
---
Inpatient & Residential Facilities Near You
The Leader in Behavioral Healthcare
Acadia Healthcare's behavioral health treatment facilities specialize in providing children, teenagers, adults, and seniors who are suffering from mental health disorders and/or addictions with the care they need through innovative, patient-centered approaches to treatment.
Acadia in the News
Find out what's happening at our facilities and at our headquarters in Franklin, Tennessee.